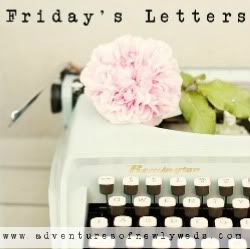 My Dearest Darling Momsy and Popsicle,

(perhaps I'm in a bit of a musical mood) I am so so very happy that we've worked out travel plans to come see you after all! This time next month you, me and the whole Majors clan will be happily reuniting and feasting on turkey (and hopefully grandmother's caramel cake) and I could not be more excited! Thank you for everything!
Dear Thursday,

You were not as kind to me as I hoped and we did not end up being nearly as productive as we should have. Now yesterday's to-dos will become the weekend's. I hope you are happy.
Dear Les Mis Cast,

(clearly Broadway is on my mind) I'm pretty stinkin excited about the film, but I really hope that you have the chops to live up to the reputation of this musical. Anne Hathaway, I'm keeping a very open mind (you did make me tear up in the preview) but I'm looking at you.
Dear Husband,

You are way too good to me. You've got a lot on your plate, but you still carry it all with grace. Thanks for being you.
Dear Husband,

Despite how good you are to me, remember that time when you woke me up whistling and singing Rebecca Black? Let's not do that anymore. It's not very nice. Even if it's Friday.
Dear Anyone Reading,

If you have not seen this video of the making of Tom Hooper's Les Misérables, watch it. You're welcome.


Happy Friday!
DD