Dear Theatre Movie Line-Up,
I am so ready for you! We have already started enjoying your post-summer blockbuster movies and are so ready to spend Friday nights and/or Sunday afternoons seeing movies like
Argo
,
Looper
,
Django Unchained
,
The Hobbit
, and
Les Miserable
! (to name a few...)
Dear Nails,
I apologize for your great neglect. I'm finding less and less time to make you pretty, but I think about you lots. Perhaps we can set aside 30 minutes for a nice salon to make them look feminine again.
Dear Pinterest and Polyvore

,
Please stop taunting me with all your beautiful fall wear! I have already done my shopping for the season and husband says I have to stick to my budget. You are not making this easy.
Dear Friends Who Gave Me a JAR of Hershey's Kisses for My Birthday

,
I guess it isn't your fault that they are on my desk at work, but you are terrible to me. Don't you know mindless chocolate muching is a bad habit I cannot shake?!
Dear Mother Nature,
Please do not rain this weekend. I have big plans of running, eating outdoors, and attending Foxfield Horse Races. You sent rain last year; I think it is the sun's turn to come out.
Dear Apple

,
Keeping up with your latest and greatest is like keeping up with the Joneses. How do people do it? iPhone 5, you look fantastic and everything but the 4S and I have barely gotten to know each other... we will probably meet one day when the iPhone 10T comes out.. you know, in like a year.
Dear Blog,
Sorry I have no pictures today, but I put up lots yesterday so maybe you can share.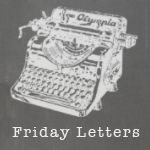 Have a wonderful weeked!!
Love,
DD