LEFT: Foster puppy, Thor, mascoting at the Law Sc
hool softball game RIGHT: SM Dalmatian Smoking Slippers via
Fashionable Interiors
Dear First Ever "Friday's Letters," I am very excited to join the community
of letter writing bloggers on Friday. I feel like I just joined in the community. Hello, all!
Dear Thor,though you are no longer my puppy and have a fantastic new owner, I still think you are the coolest dog around and am glad to have you as our softball team mascot. Also, I am very glad you grew your fluffy blond hair back out. Eskimo dog suits you well.
Dear Steve Madden

, I am obsessed with my new Dalmatian Smoking Slippers. You are always so good to my feet. Thank you.
Dear Closet, I KNOW it is time for an overhaul; summer is on it's way out and fall is quickly on our doorstep, but committing the time to change you out is just not something I can do right now. Perhaps one night soon you, me, and a big glass of wine can get together and make those summer tanks disappear.
Dear weekend, you surprise me how quickly you come, but you are also so fleeting. I wish we could find a better way to balance this.
Dear Husband, I cannot even explain how proud of you I am and of all the hard work you have been doing lately. I know you are overworked and sleep deprived, but it will all be worth it. You are going to be an amazing lawyer one day and the best provider for our family I could ever ask for. Chin up. Your cite check is finished for now and people want to give you jobs. It's been a good week.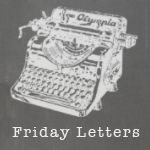 Have a wonderful weekend!
DD